Q. What is the Yamaha Music Education System (YMES)?
Designed to meet the unique needs and developmental stages of each age group, Yamaha programs develop each student's comprehensive musical ability in an environment that inspires a love of music and a lifetime of active music participation.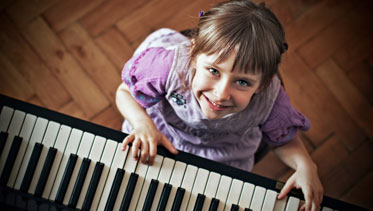 Q. How is Yamaha Different from Piano Lessons? 
The Yamaha curriculum is broad compared to traditional private piano lessons. Students sing solfège, play the keyboard, sing songs with lyrics, move to music, play rhythm and keyboard ensembles and participate in music appreciation activities.
They develop diverse musical skills without prematurely focusing on one instrument or style. This approach allows students to choose their future musical path when they are more physically and mentally mature. Yamaha students are often leaders in school orchestra, band, and choir programs.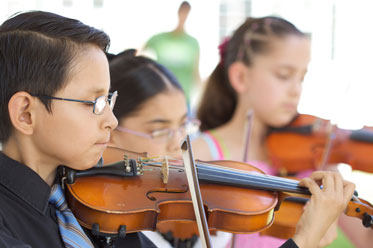 Q. Why Group Lessons?
Students of all ages learn better in groups due to the following factors:
Peer Influence: In a group there is peer motivation such that a student will want to perform well in front of and with his/her peers. The experience of performing in front of a friendly audience on a regular and frequent basis will give the student confidence and a feeling of accomplishment.
Comprehensive learning: Group lessons are a very effective way to achieve comprehensive musical training. In a group a student can sing with others and perform in various kinds of ensembles.
It takes the pressure off: In a group, pressure is not constantly on one individual. As a result, music skills can be nurtured in a relaxed and friendly environment conducive to learning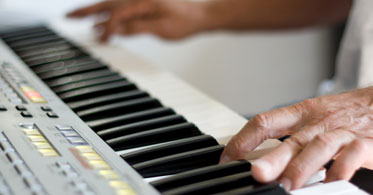 Q. Why use Keyboard Instruments? 
The use of the keyboard as a learning tool is one characteristic of the Yamaha Music Education System. Keyboards offer the following advantages:
Pitch Accuracy: When a key is pressed, it produces the correct sound
All Musical Elements: Students can play melody, rhythm, and harmony on one instrument
Visible and touchable: On a keyboard, notes are easy to find and play
Range: Sounds in all ranges (high and low) are easy to produce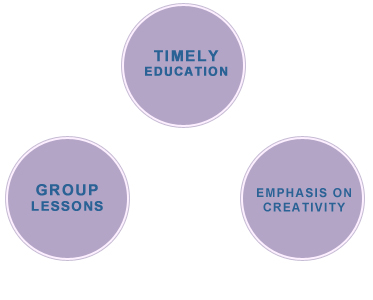 Q. How is Yamaha Different from Other Programs?
Most music programs share a common goal to introduce students to the joy of music making. YMES and the Yamaha Music School is unique because:
Teachers: Our faculty has a genuine commitment to teaching beginning musicians and are certified by Yamaha through extensive training and rigorous exams
Fun and Rewarding: Students can have fun and achieve a high level of music proficiency
Play: Performance opportunities are available in a wide variety of settings, from recitals to national or international concerts
Curriculum: Materials include books, CD's, DVD's and other materials that combine decades of experience with the most recent research in music education
International History: We are part of a vibrant international network of Yamaha education centers in over 40 countries. More than 6 million students over 50 years have learned to play using the Yamaha method