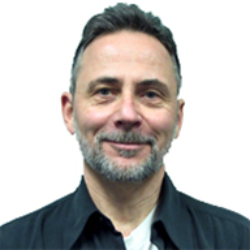 Richard Stewardson
Music Style:
Classical, Popular, Folk / Traditional, Flamenco, Blues
Teaching at Yamaha since:
1998
Courses Taught at Yamaha:
GC, Private: Acoustic / Classical Guitar, Flamenco Guitar, Electric Guitar, Electric Bass, Banjo
Music Qualifications:
Ph.D. (Candidate), York University,  Musicology; M.A., York University, Musicology; B.A., York University, Music History and Theory
Other Accomplishments:
Richard has been playing for over 40 years and teaching for over 35 years. He has performed on guitar and banjo in a wide range of musical style(s) on TV and radio, in concerts, recording studios, clubs and private functions. Richard has studied with many well-known teachers and performers, including Gordon Delamont, Tony Bradan, and Dave Phillips (Flamenco), Juan Maya (Flamenco), Lorne Lofsky, Gary Benson (Jazz).
Junior Original Concert is the best thing any Yamaha student can have, what a rich performing experience it is for a child in that tender age. We still remember and appreciate all the good things everybody at Yamaha did for us. It was 10 years of fun and excellent learning experience for my daughter; something she'll remember and cherish for the rest of her life. We still talk about it once in a while and she feels that her ties are still strong with Yamaha as she still goes to the school for lessons every Saturday when she's not racing as a competitive swimmer.
As a former Yamaha student currently studying Music and Concurrent Education at Queen's University, I doubt I'd be here if it weren't for the solid musical foundation I received from Yamaha. I was involved in Yamaha programs from the ages of 3-16, and the Yamaha teaching method was instrumental in developing my musicianship. In addition, part of what inspired me to go into Concurrent Education was working as a practice coach– it was an amazing experience to get to work with young children and help them learn.
I've heard that playing piano would be helpful to slowing aging by using our eyes, brain and of course fingers. Playing piano has become an important part of my life. I'm glad I've started.
Akira: We sometimes make our own music pieces and when we have no idea how to do it, our teacher never tells us "do it like this" or gives us the answer. That's why we have to think of it ourselves and learn ourselves. I have to think really hard and come up with my own music. I really, really have to use my head but I learn a lot of new things so I like it. It's like a treasure hunt and going on a mission to find it. It makes me happy.

Craig: It's not just about learning to enjoy music, it gives the children the ability to think, finish what they start, and try new things. I can see that at Yamaha, each step they grow, they gain self-confidence and it's very enjoyable. - excerpt from interview in Torja Magazine, Nov 2011, pg 36.
I've been very impressed with Miss (Vanessa) Hsu. She has a very positive manner. I've found it to be very age appropriate. In JMC1 it has been excellent for everything to be experienced positively. (She) creates an environment very supportive of learning. She is engaging and has a real gift for teaching. Her knowledge is very deep and she brings a rich amount of information, and also just the right amount of information to each class. She is also very well organized. Her manner is also subtle in a way that is very respective and gives people room to learn. I'm very grateful for the experience we've had in her course.
"Oliver (Manning) is a very knowledgeable, energetic, friendly, and humorous piano teacher, who has a great understanding of children and a wonderful approach to teaching them. My son has always wanted to attend his piano classes each week, and only missed a class if it was absolutely necessary.
Our family's goal was to have our son develop an appreciation and understanding of piano, and music in general. With Oliver as teacher, we have surpassed this goal! Not only does my son love music, singing, and piano, but he has learned theory and how to play the piano. He has also made new friends. Additionally, he applies the skills he has learned in his music classes at school."
Dear Richard (Stewardson), I would like to express my very deepest gratitude for your thoughtfulness and concern teaching David these last few years. He has enjoyed it a lot, and I think you've had a very positive influence on him during an important time in his life. I cannot thank you enough for all your help.
Hi Richard,
Faith has received 92% for her (Basic Rudiments) theory exam.  She is pleasantly surprised.  We're very proud of her.
We'd like to sincerely thank you for the theory class during the summer.  Faith had a lot of fun!
Thank you for being a wonderful teacher.   We will work Faith to plan for the preparation of intermediate / advanced levels of exam.
Ms. Vanessa Hsu's subtle encouraging style and naturally playful manner are big contributors to my daughter's (and my) enjoyment of the piano lessons in the past two years.  This enjoyment has helped my daughter grow fond of music, and more importantly helped her become engaged and comfortable in classes.   I was almost in tears when I saw her play in front of the class and on the big stage during the school concert...for her improvement in courage and comfort level in public.  It was almost unthinkable merely two months ago when she shied away from activities like these.  Above all, I feel Ms. Hsu genuinely cares the feelings of students and parents which is the most needed when things are difficult.  Ms. Vanessa's class materials are very clear and well structured.  She is very responsive to our inquiries and requests as well.  We really enjoyed being in her class and look forward to her classes in the coming school year!
Mr. (George) Heldt is an excellent teacher: patient, friendly, and smart.