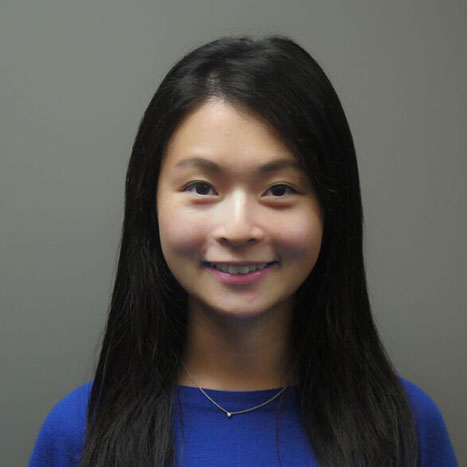 Music Style:
Classical, Popular
Teaching at Yamaha since:
2014
Yamaha Grade Qualifications:
Grade 4 Piano, Grade 4 Fundamentals
Courses Taught at Yamaha:
Apple, MW, JMC. Private: Piano
Music Qualifications:
RCM Advanced Piano Specialist, ARCT Piano Performance Diploma, ARCT Piano Pedagogy Diploma

Other Accomplishments:
Ruby Chung obtained her ARCT in piano performance and pedagogy with honours and distinction. She studied with renowned Canadian musician Dr. John Burge in composition and orchestration. Besides playing the piano and composing, music education is Ruby's biggest passion. She studied a wide variety of music teaching methods with Dr. Karen Frederickson at Queen's University, such as the Dalcroze, Kodaly, and Orff method. Ruby is a certified Yamaha group music instructor and holds the Yamaha Grade 4 Teachers Certificate. Ruby believes deeply in the benefits of learning music in a group setting. Singing to her, is the best way to understand the expression of music from within. Her teaching objective is to lead students to the "aha!" moment in understanding what they were taught and become prompted to apply it to their lives. Ruby currently teaches group music lessons and private piano lessons at Yamaha Music School. She is also a teacher trainer for Yamaha Music School in regional teaching seminars across Canada.
Testimonials
Our instructor, Ruby Chung, has been consistently excellent in JMC1 and Music Wonderland- firm classroom management, and great individual connection to give our daughter attention and focus. Ruby really motivates her to practice and improve, and it's a pleasure to see and participate.
Ms. Ruby is a wonderful teacher for children's music lessons. Her classes are full of funs. My daughter likes her a lot. She's patient and encouraging to the little ones and constantly has interactions with the little ones and parents. Ms. Ruby is very responsible and closely connected with our parents. I highly recommend Yamaha and Ms. Ruby to my friends.
We loved Ms Ruby since day one! She's an amazing teacher. She is very patient and enthusiastic and her passion for teaching music inspires her younger students. She made my daughter fall in love with music!
My daughter started with Ms. Ruby in JMC1 will be completing JMC4 this year. When she started, my daughter was so shy. She refused to go up to the front of the room with the rest of the students to sing. Ms. Ruby was patient and created such a safe atmosphere in the class that before the end of the year, my daughter was performing both in front of the class as well as in the year-end concert. In addition to being warm and friendly, Ms. Ruby is very professional, talented, and skilled as she will provide additional enrichment activities for the students that make learning music all the more fun. Thank you Ms. Ruby for providing my daughter with such an excellent foundation and experience. It has been a wonderful four years. Please know that you're appreciated!